I've always had a certain fascination with Universal Studios. From my first visit in the early 70's, that special combination of movie magic and theme park really struck a chord with me.
Back then, it was called simply Universal Studios Tour and the main attraction was really just a tram ride through the backlot. You rode aboard salmon-pink striped canopy clad Glamour Trams, and your onboard Studio Tour Guide gave you a true, behind-the-scenes look of an actual working production facility.
A ride through 'Six Points Texas,' sets from 'Spartacus,' a few thrills along the way (a torpedo launching submarine, and a flash flood were the highlights), a walk through Lucille Ball's dressing room, some movie-making demonstrations inside an actual soundstage, a break at Prop Plaza, and then to the Entertainment Center for a few live shows and a better appreciation for the film-making process. It was an easy-going, low-key 'half-day' experience -- back when 'half-day' experiences weren't frowned upon.

Years later, as a young college student, I signed up to become one of those Tour Guides. Although selected initially, the training was intense; part of it involving learning great chunks of Universal history -- which I can still recall. (Back in 1912, studio founder Carl Laemmle purchased land from a chicken rancher, and began making movies. Grandstands were set up and visitors were invited to the studio for free to watch movies being made. Fans could cheer the heroes and boo the villains [this was the silent era, of course] and then, ever the businessman, Mr. Laemmle would sell visitors a chicken box lunch for a nickel.)

Tour guide training also involved 'verbatim spiels' – sections of dialogue that took place on the tram tour that had to be memorized word-for-word. Although an actor, I didn't really apply myself very well, and was cut after the first round. Somewhat humiliated, I redeemed myself a year later, when I moved to Florida and became a Walt Disney World Tour Guide – so there.

The Glamour Trams started in 1964, and since that time, Universal Studios has continued to expand into much more of a theme park experience – multi-million dollar rides, attractions and shows are now part of the landscape. First and foremost, though, it's still the world's biggest working film studio, and the Backlot Tram Tour is still the centerpiece attraction, because you still get that real, behind-the-scenes feeling.

Dianne, Megan and I had taken frequent trips to Universal CityWalk but never went into the Park. Last summer, after struggling with ever increasing Disneyland crowds, we took the plunge and for about $8.00 per person more than a one-day admission, we all bought Universal Studios Deluxe Celebrity Annual Passes – featuring no blockout days, no restrictions, and an ID picture that actually looks like you. Universal City is just 15 minutes away, crowds are noticeably lighter, and we can catch a quick theme park fix without having to invest an entire day in Orange County.

From a design perspective, this Park is almost a living case study of how to build and expand a theme park, when you have no room to expand, and it was never designed to be a theme park in the first place. It's always been fascinating to watch. The layout itself is pasted together and uneven (the worlds largest escalator down to the lower lot is maddening), the theme-ing is scattered and confused (walk from a Western town, to Mel's Diner, to a European street, to Bedrock, to a New England shanty town in about 50 square yards), but overall, it all adds to the charm. Plus, the designers seem to be afforded a certain luxury and freedom of not being under constant scrutiny, and to just upgrade and enhance things without having months and years of incessant planning.

On a recent visit, and were struck by several new things.

A bronze statue was added to the fountain just inside the entrance. Really nicely done, it features a life-sized cameraman, boom microphone operator, and a director. The figures appear to be filming, booming and directing YOU as you walk into the Park's entrance plaza. It adds a lot of interest, and has become a very popular photo op.
The Mummy Returns -- 'Walk-through Haunted Movie Sets.'

The Nickelodeon Blast Zone – a very well put together frenetic kid's playground.

Animal Planet Live! -- replacing the long-running'Animal Actors Stage' they've re-done the gift shop, and kept a neat feature - visits with real Animal stars.

Shrek - A new live show stationed outside the old Castle Dracula.

Coke Soak – a smaller-scale water playground now sponsored by Coca-Cola. It's a bit more sedate, and features a series of interactive buttons and devices designed to squirt you with water. This is one of Megan's favorite spots, and if we remember to bring a change of clothes, she can cut loose for an hour and get soaked.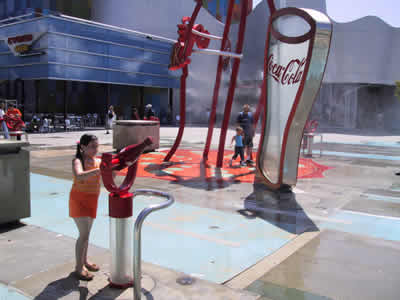 So here it is 'theme park season', and yet, no new cutting-edge ride, no mega-giga coaster, just a series of little tweaks and upgrades. Nicely themed and constructed, these little 'plusses' I think they're called, have an economical, let's-get-it-open-in-time-for-summer feel to them, but they really add to the overall ambiance. And we are always pleasantly surprised.

As you may have noticed, we're not a thrill-seeking, run-from-ride-to-ride family anyway, and the re-do of a restaurant can provide just as many ooh's and ahh's, as the addition of a whole new attraction. What can I say. We're weird

It's been a fun year, and we've come to enjoy Universal for the relaxed atmosphere that they've been able to maintain -- the lighter crowds, the fun entertainment, and the really cool people we've encountered, all make us feel very welcome.

So last week, when a pleasant woman from Universal Studios Hollywood phoned me, and asked if we wanted to renew our Celebrity Annual Passes, without hesitation I said "Yes we do!" Beyond being convenient, and that it cost us about $60.00 per person, phoning us was just another little 'plus' that kept us coming back.

Fun place. Great people. Excellent salesmanship. Seems that Mr. Laemmle would approve.