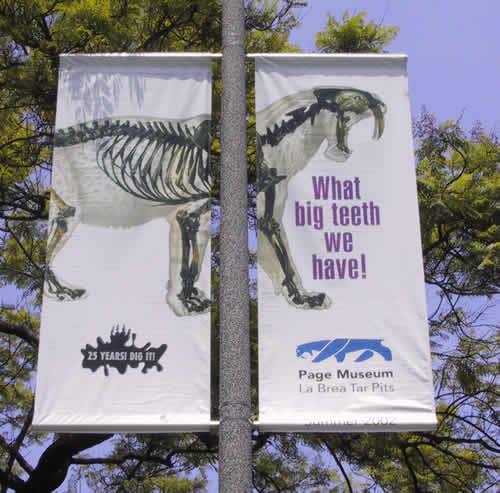 The George C. Page Museum at the La Brea Tar Pits - Los Angeles, CA
July 14, 2002: We need new shopping centers in Los Angeles. That is, if you believe the latest trend.
Big shopping malls have sprung up in the past few months, and more are on the way. Hollywood & Highland, Hollywood & Vine, The Grove at Farmers Market, The Arclight Cinerama Dome, Paseo Colorado -- all of them feature fantasy architecture, open-air walkways, and the latest lineup of stores -- Gap, Structure, Abercrombie and Fitch, Hot Topic, J.Crew, Starbucks, Tommy Bahama, Sam Goody Music and a large multiplex of movie theaters.
The way we're expected to go out and shop here in Southern California, you'd never guess the economy is sinking. These new places are impressive to look at, and they've become bona fide gathering places and tourist attractions.
Not far from all this glitz and commerce, right there on Wilshire Blvd.'s Miracle Mile, is what might be considered the anithesis of those plush new shopping destinations -- The La Brea Tar Pits. A tourist staple for 70+ years, people seem to enjoy congregating at this somewhat peculiar location. In fact, the day we visited, they were celebrating their 25th anniversary of the George C. Page Museum.
We didn't know about the special event, but the hundreds who were enjoying the face painting, personal appearances, live music, food and other entertainment, did know about it, and seemed to be having a good time. Because of the extra crowds, parking was limited. The museum's own parking lot off of Curson Avenue was full, so we back tracked and used the alternate parking in Museum Row.
The George C. Page Museum was built in 1977 to pull together all of the various fossils, bones, and exhibits that had been collected over the years - many of which have been excavated from the various La Brea Tar Pits.
A few things to clear up.
The La Brea Tar Pits It's a bizarre centerpiece for a museum, or even a public gathering spot. Sitting in Hancock Park [and within walking distance from Los Angeles County Museum of Art], it's a very popular place. [Please note: La Brea is Spanish for 'The Tar.' So, as Megan pointed out, when translated, we're going to 'The The Tar Tar Pits.']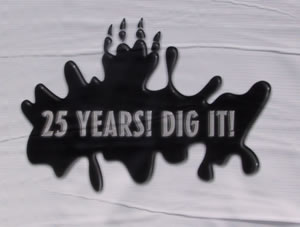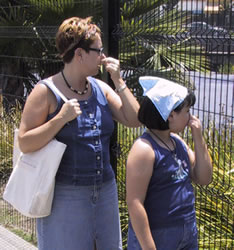 Tar Pits Yes, there are pits filled with tar, or liquid asphalt. The main pit faces Wilshire Blvd. and is the most prominent both in size and smell.
About the size of a football field, it's filled with the gooey mess -- it's dark and bubbly and has a strange tart smell due to the methane gas that is expelled. Not necessarily foul or noxious, but on the hot day that it was, it's pretty pungent. [left]
The other pits around the area are smaller, and drier, and are still in use -- paleontologists are still bringing forth fossils from an excavation that began in 1969. Tar even continues to bubble up in unexpected places. [below]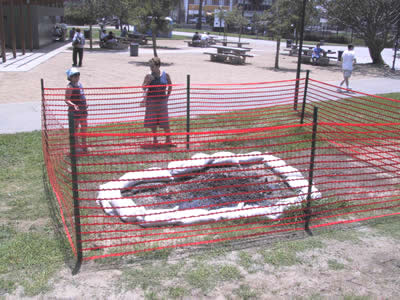 Dinosaurs On our Museum Madness schedule, I wrote 'Dinosaurs, Fossils and Tar Pits -- oh my!' Wrong, Jim. No dinosaurs here, we learned. Instead, the bones, fossils and remnants showcased here are of prehistoric mammals that roamed the area 14,000 years ago. Saber-tooth cats, wooly mammoths, dire wolves, and even a La Brea Woman. More 'Ice Age' than 'Jurassic Park.'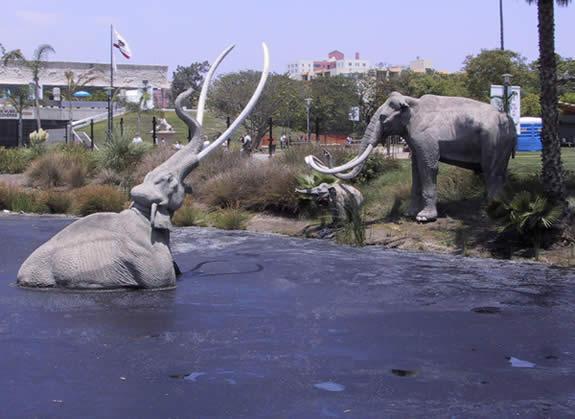 George C. Page Add him to the list of Southern California entrepreneurs who got involved in museums. As a young man living in Nebraska, Page took a bite out of a California orange. It impressed him so much, he moved to California and started a business where he would package and ship California oranges to impressed mid-Westerners. From that, he developed a successful series of businesses and went on to philanthropic endeavors. Which included the museum that was built 25 years ago.
Okay, class, are we ready to see the museum?