Norton Simon Museum - Pasadena, CA
Friday, July 5, 2002: If you've ever watched the Tournament of Roses Parade, you may have caught a glimpse of the Norton Simon Museum. Situated on 'the corner' of the parade route at Orange Grove and Colorado, the building's chocolate brown tile siding and unusual grey roof make it quite recognizable as the floats drift by.
Even before we moved to Pasadena, I knew of the Norton Simon. In the past 4 years, we have driven past hundreds of times. And wow, what a surprise. Until we visited, we had no idea that our favorite museum so far was literally right in our own backyard.
First off, The Norton Simon Museum is named for a real person, Norton Simon [1907-1993], another entrepreneur who made his fortune in Southern California. Back in the 1930's, Simon merged his Val Vita Foods canning company, with Joseph and William Hunt to form Hunt Foods. Over the next few decades, he added in several other companies, [Avis, Max Factor] and made millions. While creating his impressive and vast business empire, Simon also collected art, and by the 1960's had amassed what is considered to be one of the worlds best.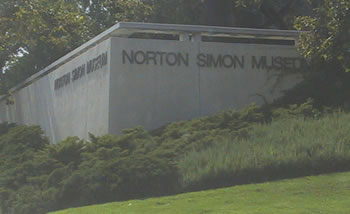 The short story is that by 1975, Simon was quite well known in the Art world, had taken over the financially troubled Pasadena Art Museum, combined his own personal collection with theirs, and reopened in the same building giving it his namesake.
The main front of the building faces Colorado Boulevard, easily one of the busiest streets in town. Unfazed, Rodin's famous 'The Thinker' sits out in front, just yards from the street. In this day of tagging and vandalism, it's incredible that he's unscathed.