Welcome back. Our trip report of California Science Center in a moment.

First, we wanted to thank you for your positive feedback regarding Museum Madness Tour - Summer 2002. Because of your encouragement, and also because we had such a fun time, we're continuing Museum Madness into the Fall/Winter months.

It's taken us a while to gear up again after summer. In September, along with Megan turning 8, and starting the third grade, she also joined a soccer team for the first time. Which means that Dianne and I are now officially soccer parents. We didn't necessarily go willingly, but we're starting to come around.

Let me be clear. Dianne and I are not sports fan. Neither of us watch sports on the weekends, or participate in sports for our leisure time. I played some Little League baseball, but would never consider myself athletic. So being involved in soccer is an exercise for both of us in being good supportive parents. And it's been surprisingly fun so far.

Here in Pasadena, AYSO [American Youth Soccer Organization] is big-time popular, with 300 teams, and over 4000 kids participating. The fifth largest AYSO region in the country, it's very well run with lots of volunteers and important looking guys in red polo shirts. We recently had our opening day ceremonies at the Rose Bowl [see below]
For families involved it's busy, busy, busy. We have practice on Thursday nights, and then an actual game every Saturday from Labor Day to Thanksgiving. As one veteran member jokingly told us - AYSO stands for "All Your Saturdays Occupied."

Megan plays on an 8-years-old-and-under girl's team - The Blue Dolphins. Since many of the kids are playing for the first time, [Meg included] they do a few things differently in this age category. Among them: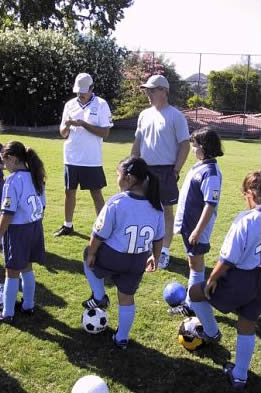 1. The team of 14 is split into two - everyone plays.
2. One coach per team can be on the field to assist.
3. One referee is provided by each team.
4. No goalies.
5. No keeping score.
6. No explanation of the rules
So essentially, they line up at the center, the ball is kicked and off they go. Yes, there's out of bounds, and they try to kick into the goals, and they do corner kicks and throw-in's, but man, the first few games were a sight to behold. All these girls kicking and running, coaches shouting instructions, and parents on the sidelines screaming, it made baseball's Infield Fly Rule seem logical.
Thankfully, even with a couple of water breaks and a short halftime, it's over in one hour. And overall, Megan and the other kids seem to be having a good time. Her two coaches are really nice guys. And it's all about good sportsmanship, teamwork, and coordination.
Megan is built like an athlete, and she has no fear of jumping in, going after the ball, and kicking the hell out of it.