Wal-Mart - It's Brand City
6-11-01: We went to Wal-Mart this week to stock up on toiletries and such. Wal-Mart sells everything from bicycles and toys, to greeting cards and paint, to laundry detergent and toothpaste. In fact, I was amazed to find that Wal-Mart carries no less than 34 different varieties of toothpaste. Every brand now has a special blend that Whitens; Whitens with Bleach; Whitens in a Fluoride Paste; Controls Tartar in a Gel; in a tube, in a bottle, and in a pump.
It wasn't too long ago when all you had was Crest, Colgate, Pepsodent, Aim, and maybe Pearl Drops. It also wasn't too long ago that the CEO simply ran a successful and profitable toothpaste company. Today, however, that same CEO is programmed in today's big business mentality and charged with 'branding,' 'market share' and '18% return on the investment.' On toothpaste!
Is it working? I'm no economist, but it seems that with the softening economy, massive layoffs, falling stock prices, elusive financial goals, and angry shareholders demanding faster returns, companies are being forced to move at an almost frantic pace. More product, more expansion, more change. From Technology to Entertainment; Automotive to Energy; Pharmaceuticals to Insurance, the forecast seems to suggest "slow down!" but Wall Street continues to threaten, push and speed up the process.

The CEO's, charged with making sense of it all, find themselves rushing head first into media blunders, internal personnel bungles, and down right major corporate disasters.
Just in the last 11 months, we at 2 Adults - 1 Child have been participants in to two fairly big public relations nightmares involving major companies Ford, Firestone and Disney.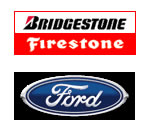 Ford and Firestone - Welcome to Splitsville
Last August, prior to all the excitement, we bought our first new car -- a 2000 Ford Explorer. 4 door, gold paint, some nice extras -- and factory equipped with Firestone Wilderness AT Tires. Within days after driving our shiny new Explorer off the lot, a recall began involving several million Firestone Wilderness AT tires. The recall involved only tires made in Firestone's Decatur, IL plant. Since ours had been made in Wilton, NC, we were supposed to safe and sound. After spending the next 4 months discussing, researching, and frankly worrying about tires, we sucked it up, and replaced the Firestones with brand new Michelins. Cost: $654.00. (those doing the figuring there's a total of 5 tires)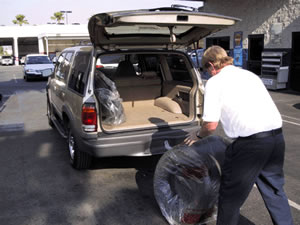 Finally, this past May, Ford CEO Jacques Nassar announced the recall all 13 million Firestone Wilderness AT tires on their Explorers. I loaded up the tires (still wrapped in plastic in the garage), and drove them to my Ford dealer to for a refund. Two weeks later, a $654.00 check arrived, and the saga of the Firestone Wilderness AT Tires ended. We got our money back, we have some great new tires, we had no accident or roll-over, and we love our new Ford Explorer.
But, something about the whole thing stinks.

Are Firestone tires really bad? Would Firestone knowingly produce shoddy tires? Is the Explorer as safe as they say? Are we going to roll this thing or what? Once the questions started, we had trouble finding the answers. Firestone CEO John Lampe and Nassar couldn't find answers and ended the 100+ year partnership between Ford And Firestone. No wonder consumers are confused.
Nassar appears to be working hard to restore consumer confidence in The Explorer, and Ford. He recently hired 'turnaround specialist' Nick Sheele to help with negative perceptions.
Not surprisingly, Firestone tire sales have dropped since the recall, and the Decatur, IL plant may be shuttered. Their latest campaign 'Making it Right' is a huge understatement. Lampe has his work cut out for him.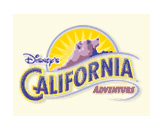 With close to 50 years building the world's best theme parks, Disney's California Adventure is receiving the ultimate Industry kiss of death: bad buzz. It's not enough for $43.00. It looks cheap. The California theme is too provincial. It was thrown together. All the attractions are imported from Disney World. Not enough for the kids. It's not Disney enough. Bottom line: Even though we enjoy the Park with the luxury of an AP, the public at large clearly isn't rushing to see it.
After first hoping that rainy weather, soft economy, and soaring price of gas were keeping people away, Disney's newest theme park debacle is hitting the company at the heart of their most profitable and popular division. This Summer, Michael Eisner & Co. decided to discount tickets, add in more live entertainment, resurrect "Disney's Electrical Parade" and are fast-tracking a "Who Wants to be a Millionaire?" live show. But, like Firestone Tires, even with the addition of attractions over the years, Disney's California Adventure has developed a negative connotation that may be hard to shake.
True, Disney's is not an issue of consumer safety and well being, but the current leadership must remember that Disney Theme Parks are still considered the best when it comes to design, innovation, cleanliness, cast member courtesy, and value. You can't just design, build and open a half-baked theme park, slap the 'Disney' name on, and expect the masses to come flocking. It still has to be outstanding. It still has to have value. It still has to exceed the guest's expectations. Have Eisner & Co. learned the lessons here? Time will tell.
On the flipside, since the opening of Disneyland in 1955, we've become a country themed entertainment -- Themed restaurants, themed shopping plazas, themed game arcades, themed movie theaters, and themed malls. Everywhere you look, from Las Vegas to Pasadena, is in-your-face architecture, sound effects, animatronics, neon lighting, and menus with funny food names. Which puts the pressure on Disney to make their theme parks even better if they want to remain the leaders.
Economic Outlook - Curiouser and Curiouser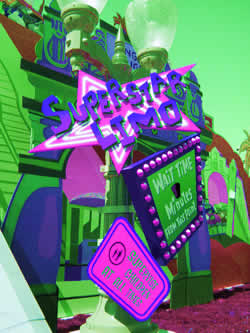 And within the themed world, three big companies are still working through three big messes. Henry Ford started making cars 98 years ago. Harvey Firestone began 101 years ago. Walt Disney created the first theme park almost 50 years ago. Today, their respective companies are in crisis, and although Nassar, Lampe, and Eisner continue to make major bank, running these worldwide organizations must be something akin to madness - like traveling through SuperStar Limo.
In the meantime, the theme of big bad business seems to be go-go-go. One wonders if these fast-tracking companies are capable of slowing down to even consider their future strategy. Probably not. Since nipping at their heels are more shareholders who are demanding better return for their investment, and at a faster rate.
People were moving fast at the un-themed Wal-Mart too, and as I shoved through the aisles, I realized that the trend not stopping anytime soon. To keep the economy moving, we can look forward to more and more product offered up at a faster and faster rate, in an attempt to go after higher and higher shares of consumer dollars.
For us, that translates into more SUV's, more tires, more theme parks, and thank goodness, more varieties of toothpaste.